enjoy a glass of wine with a cheese plate
Visiting Our Cellar Door - BOOKINGS REQUIRED
---
Opening Hours
Friday 1pm - 5pm
Saturday 10am - 5pm
Sunday 10 am - 5pm

Wine Tastings $5 pp
Cheese plates, individual or shared $15 pp

We offer both hosted and non-hosted bookings.
---
Wine tastings costs $5 per person
Cheese plates, individual or shared $15 per person
We offer both hosted and non-hosted bookings (book online below).
On fine days, we have plenty of seating and spaces outdoors to enjoy our wine and cheese plates. Inside our small cosy cellar our seating is a bit limited so please, on those rainy days, phone ahead or email to check, especially for groups of 4+ people.
Browse our cellar door during your visit. We have an interesting selection of locally made products along with handmade items from our property. Our wine is available for takeaway purchases and by the glass at the cellar door. You may also order our wines through our
online form
.
---

Hosted Wine Tastings
(groups of max 8 people)
A hosted wine tasting is perfect for those people who are visiting us for the first time. Allow 45 minutes to taste our available wines and fortified wines, browse the local produce at the cellar door and chat with the owner. Include a cheese plate, a wander around the property and time to sit and enjoy the natural bush setting.

Non-Hosted Winery Visits
(no wine tasting)
If you have visited our property before and already know a little about us, an unhosted booking gives you an opportunity to relax in the grounds, buy a bottle of our wine and a cheese picnic. Relax and enjoy.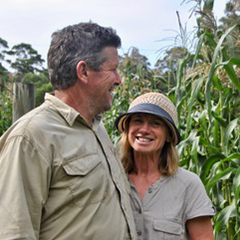 Anne Edmistone,
Producer Liquor Licence 24009452

It is against the law to sell or supply alcohol to, or to obtain alcohol on behalf of, a person under the age of 18 years.